13:37, Monday, September 8
Haruma & Takeru ; this two is such a perfect combination, kyaaa

Haruma Miura (Actor, Singer) : he acts in several drama which i know best is only three, From Me to You, Samurai High School and The Hours of My Life.
Takeru Satoh (Actor) : I only know his existence in Bitter Blood. Mianhae. Oh and he might be short but he's older tham Haruma ^^=


I'm getting addicted back to J-Drama & Anime. Kyaa, this is seriously bad yet I missed my J-Rock addiction, hee. SCANDAL, the only girl band I can keep fangirl-ing on. LOL.

Ao Haru Ride - Blue Spring Ride (Anime&Manga)
This is seriously obvious because it is everywhere here. haha. I only like it because the love scene is pull-and-push kinda scene. Which is annoying yet cute. It got more frustrating when there's a third person but I believe in them(Kou & Futaba), lol. At first, my friend told me about the anime, it is still ongoing. Of course the hell of waiting but it's worth it, but when I got this long mc I got bored. I have to finish it instantly. So, I read the manga. Double faster, haha. I'm at the part which it gets annoyed but still the love gonna sparkle soon, i mean the climax. teehee. I love it!! The story reflects half of my love story which is quite bored, but it does brings back memories though, hmm. I kind of lke the story where I didn't know how it ends, meaning it's still hazy and unexpected. Surprising and amusing, lol. So, I'm still loyal to this one. Oh, the live action is gonna be released the end of the year i guess, can't wait >.<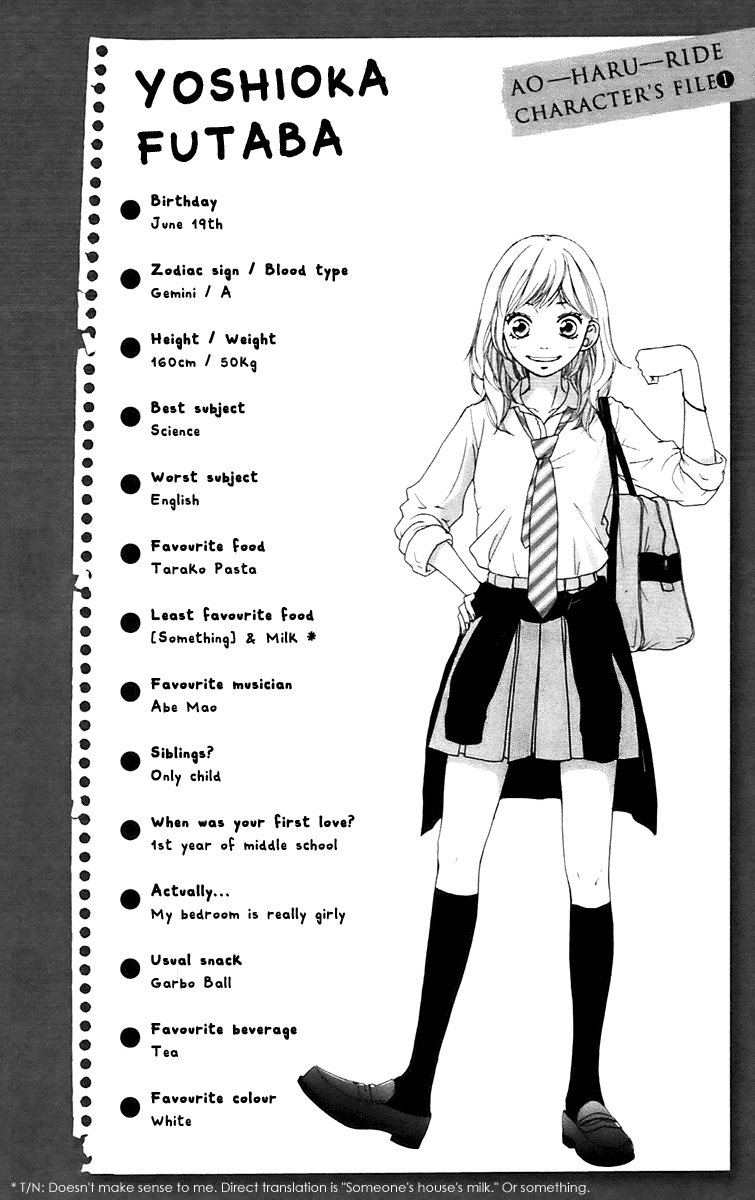 The girl, Futaba.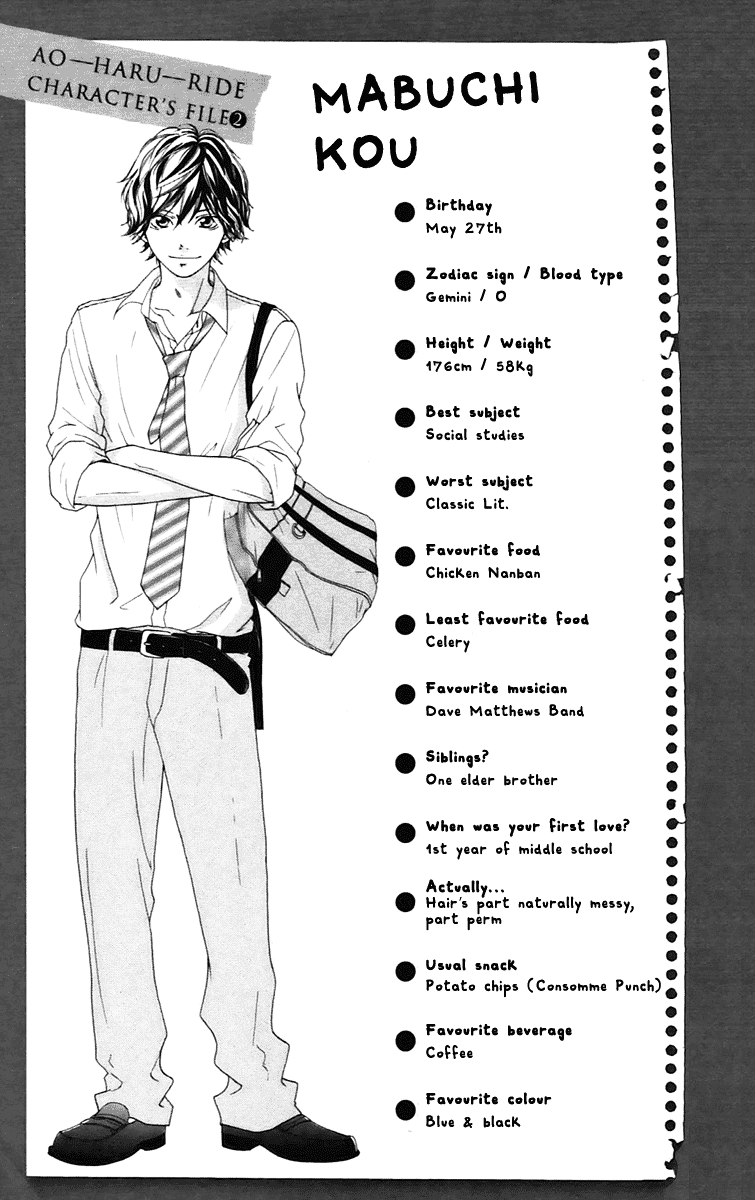 The boy, Kou
The gang, Yuuri+Shuuko+Kominato. Oh, and Tanaka-sensei (Kou's older bro)


Kyoukai No Kanata - Beyond the Boundary (Anime)
I also got this one from my friend which is I fell in love at first sight. It shocked me at first but it still caught my attention every single time. It's about a girl(Kuriyama Mirai) that is a monster(youmu) killer, supposed to be, using only her blood. Met an immortal half human half monster(youmu) in a boy form(Kanbara Akihito). And then their interactions through fighting and stuffs, i never expecting a love line between them. then it happens along the way which is adorable and argghh i might cry. I can't explain how I feel. LOL.

Kuriyama : the clumsy youmu warrior
Akihito : the half human half youmu boy
The Nase Siblings : family of youmu handling kind of department i guess, haha
Sakura : the younger sister of Kuriyama's bff which Kuriyama "have-to" murder
Shindou Siblings : owner and helper of a youmu stone trading shop, they're also youmu.
Shizuku-sensei : a youmu warrior freak and also a teacher.
Fujima : the evil youmu, duhh


Bitter Blood (J-Drama)
Looking at the title gives me not even 1% interest on it, tbh. The first episode seems hazy to me, even though it's an investigative kinda story. I bear with it for one episode and I got caught on the opening, that awesome opening ... just... gives me goosebumps, really. It's about a guy who determine to become a detective or in this big coincidence thingy to become his father. Which he doesn't got quite in good terms with. So yeah the first he's scouted as a detective, his father of course as shocked as him. They fight cheesily a lot cos they have different opinion on something. The father, kind of fashionista yet strict in a case. The son, clumsy yet a quick thinker and seriously brave cos his head got pointed with guns the most compare to others. Lol. Both of them doesn't fear deaths and always stands for the truth whenever wherever but of course they got along in some way. they're blood related anyway. That is one thing, they also in a team which is super awesome cos they each have their own nickname. The father, Gentle. The son, Junior. CUTEE >.< It is below 20 episode I guess and I seriously regret not having interest in it on the first place, arghh.

Bachelor, Chaser, Chief, Gentle, Junior, Maeda, Skunk, Taka

THE TEAM
Bachelor : Koga; As his nickname yeap he's a bachelor who desperately want to get married.
Chaser : Inagi; IT genius and master at trailing and great in disguises too!
Chief : Kagiyama; The leader of their team who diligent in working and dislike to go home, lol
Gentle : Shimao; Strict in work, precise in fashion, bitter in coffee. Single father, so awesome. haha
Junior : Natsuki; Clumsy yet fast thinker and bad at negotiation. Aimed by gun on his head so many times.
Maeda : Hitomi; daughter of Shimao's late ex-partner and also rookie detective w/ natsuki.
Skunk : Togashi; have talent in making people confess the truth and have a really big family. daebak
Taka : Takano; kind of playboy but life of the party! he gives the nickname btw,


These three might differ a lot but I'm addicted to all three of it and still can't get it out of me. At all. Argghh,

intro
ヽ( ˃ ヮ˂)ノ
Assalamualaikum & Greetings
Pka; 95'; KTH's twin
ㅋㅋㅋ
EMOJI
COLOR
DR. NA
MOM83
YOU
YOU
땡규 :3
뭐해
감성
갸힝~